A commitment to Content Marketing makes a successful B2B marketer
You must have clarity and commitment to be a successful content marketer
We have finally reached a time where we can all agree content marketing is successful. As per last week's blog post, Content Marketing is finally catching on in the B2B sector. The question is no longer is content marketing successful, but instead what does a successful content marketing program look like?
The 2017 trends analysis by Content Marketing Institute says only 41% of marketers know what a successful content marketing program looks like. It is evident many B2B marketers are still lost in this part of the program. Thirty percent of respondents don't know what a successful program looks like and 29% are unsure. This is interesting because within those same amount of people, even though the majority don't know what success looks like, a combined 93% are either very, extremely or somewhat committed to content marketing.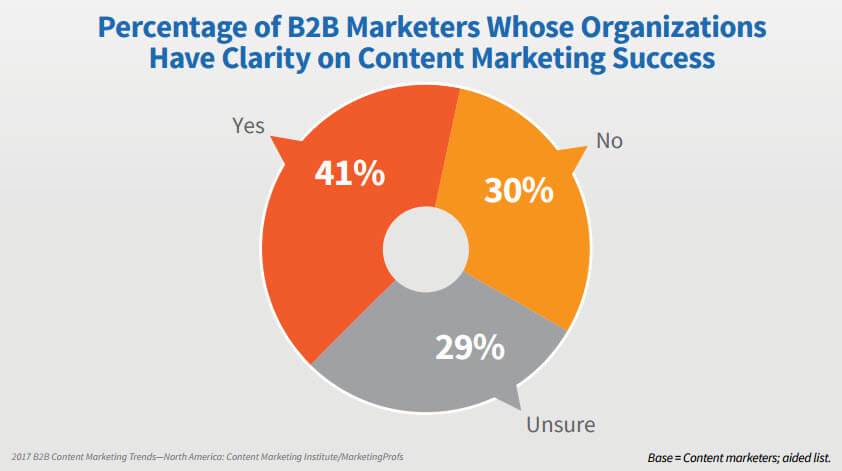 It is obvious throughout this report that there is movement and recognition across North America for B2B marketers to deliver on better content marketing.
So how do you become a better content marketer?
Many respondents (73%) attribute their success to a higher quality of content creation and their inhibitor to success, the lack of time to create content as well as other content creation challenges. It's unfortunate but it goes hand in hand, you must make content marketing a priority and commit time to creating it in order to be successful. Fifty three percent of people say their program was more successful after making it a top priority. Another 53% say they spend more time on content marketing to be successful.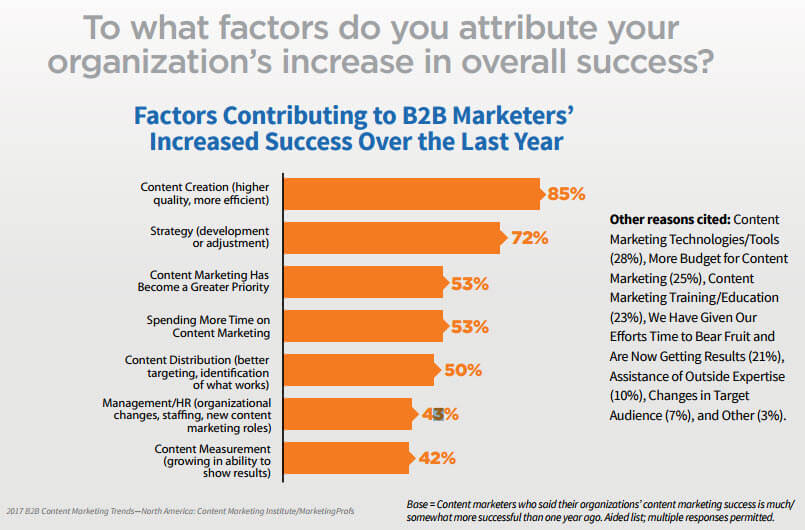 Achieving Content Marketing Success
Look at what these statistics say about the most effective ways to achieve a successful content marketing program. Then use these statistics as a guideline to organize a content marketing program that you can feasibly track and measure, as oppose to using guesswork to determine success.
Marketing CoPilot Best Practices
1. Get commitment from the top
It takes time and money to build a successful lead generation for any business. A common misconception of CEO's and business leaders is that good content that engages and takes a visitor to a next step is easy and fast to produce. Just because you can buy an email marketing platform online in 5 minutes, does not mean it will be easy to crank out a results-oriented program. It is a 12 month journey at best to craft a performing program. But it should be, because if lead generation and lead nurturing was this easy, you'd have a billion dollar company already.
2. Assign a real budget and timeline to your strategy
If your budget is $500/month, then don't bother. You need someone who can build a real strategy based on your client's needs and wants, not your products or services. You need someone to craft the content strategy and the online conversion points and then you need someone with the right skills to track and monitor everything and map it back against results. This requires a realistic budget and set of resources to do this properly. Check out our guide How to Track Marketing ROI if you really want to use content marketing to drive leads and sales.
3. Start with your customer as the authority on your content
Everyone jumps into this game developing content about product and services and they forget that this is often useless content to the prospect or visitor they are trying to engage. People care about themselves and their problems so use a customer scorecard and buyer persona to figure out what matters most to your customer. This is the content they will want to read and engage with.
It is important that before you start making plans for strategy or put together a budget, your organization overall must have clarity on what a successful content marketing program looks like. Even though these contributors to success can easily be put in place, first you must have understanding of what you want your success to look like. Start by creating goals and outcomes that can be easily tracked and measured at the end of your program.
You must review your current marketing environment and start organizing not only your resources but also your process and strategy for content marketing. Besides the most cited problem of overall success in content marketing (creation), you also face the problem of strategy. Tune in next week as we discuss content marketing strategy.
---
*The statistics of this article can be found in the 2017 Benchmarks, Budgets and Trends- North America report conducted by Content Marketing Institute and based on 1,102 respondents who recognize themselves as B2B marketers in North America.